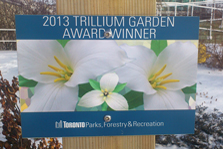 At Bluffers Park Marina we've always taken as much pride in caring for the land and gardens of our property as we do the shoreline and waters. That's why we were very proud and pleased to be named a 2013 Trillium Garden Awards winner.
Gardens were judged in late July and early August, with the judging criteria being design, use of plant material, condition and maintenance, hard landscaping, environmental practices, community contribution and distinction. Bluffers Park Marina took home the prize for best commercial garden.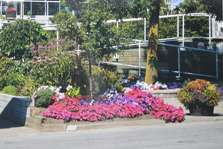 Congratulations to our talented and dedicated gardening staff, and thank you for playing such a big part in making Bluffers Park Marina such a beautiful place.
Established 35 years ago, the Trillium Garden Awards are a partnership between City of Toronto Parks, Forestry and Recreation and volunteers from the Agincourt Garden Club and the Scarborough Garden and Horticultural Society. The awards recognize outstanding gardens in Scarborough that contribute to city beautification through creative landscaping, colourful annual and perennial plantings and well-kept grounds.