Water or land there is plenty of space to dock or store your boat at Bluffers Park Marina, the only full service marina in Toronto.
Perhaps the greatest thing that's included with our boat dockage and storage is flexibility. We aim to accommodate your preferences. At Bluffers Park Marina we will work to your schedule when it comes to getting your boat in or out of the water.
If you want us to launch, fuel up and bring your boat to the slip or to the storage area we can do that—you don't even have to be at the marina to witness this process.
Want to stretch your boating season well into the fall? Go ahead—our boat storage deadline can be whenever you want it to be, although weather is our guiding factor. Mid-November we are usually done as we need to winterize our equipment.
To protect your boat, while it is docked or in storage with us, our facility is gated and equipped with security cameras. Plus, there's someone in the office year round for added peace of mind.
If a storm strikes during the winter months, one of our staff members heads out afterwards to inspect every boat in our winter storage yard for damage and to repair any tears in the boats we have wrapped. If there is damage to your boat you will get a call from the office.
Lastly, if maintenance issues occur while your vessel is docked or in storage at Bluffers Park Marina, we can repair it on site as we are the only full service marina in Toronto. As well, if you can limp here by water we are can repair it.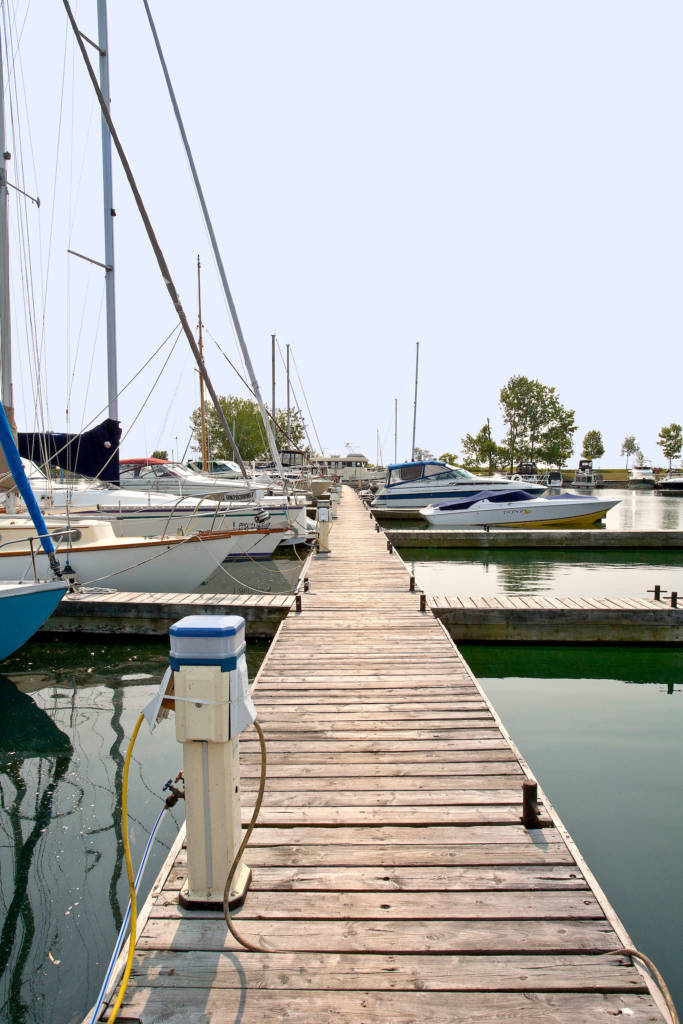 Summer Season Rates (May to October)
Winter Season Rates (October to April)
Boats Must be 30 ft. min.
In-Water Storage: $95 X LOA.
(Includes one lift-out after each entire year, expires if not used)
In-Water Live-aboard Fee (Winter Only)
First Person: $425.00
Every Additional Person: $335.00
Winter Hydro: *$48.00/amp
(30 amp 120 volt /50 amp 208 volt services available)
* Subject to Change
Land Storage Package:
$5.80/sq. ft. (Includes haul out, hull rinse, storage, and launch) *Does not include winterization, see GLYS for service*
Land Storage only: $5.10/sq. ft. (150 sq. ft. minimum)
BPM Winter Trailered Boats: $35.00 / ft. (20 ft. min.)
Storage Trailers & Containers: $5.10/sq. ft. (20 ft. min.)
Car Storage: $125.00 per month
Motorcycle: $55.00 per month
Trailer / Cradle Storage: for BPM Seasonal Boaters $165.00/season.
Blocking
Power Boats only: $6.80/ft.
tripod Stand Rental: $95.00 per stand
Sail boats MUST have a cradle
Boat Lift or Launch: $7.90/ft (up to 40′), $10.50/ft. (over 40′)
Sling time: $115/hr
Sling time (overnight): $180/night
Charged at a minimum of 20′: $150.00
Hull Rinse: $4.20/ft. LOA
Repair Land Storage: $1.60/sq. ft. monthly, $0.80/sq. ft. weekly
Repair Blocking: $126.00 monthly, $55.00 weekly
Mast Step/De-step: $5.80/ft. LOA, $8.00/ft. LOA for two masts
Crane use only, includes operator
Yard Labour: $80.00/hr (1 hour minimum)
Welding (Steel only): $132.00/hr
Tow Inside Harbour: $175.00/hr (1 hour minimum) NON BPM $500.00 deposit
Forklift & Operator: $105.00/half hr
Drive Boat/Captain: $80.00
Mast Storage $125 per season
OUR MARINA MEMBERS SAY
Office staff is great and very accommodating. Yard staff excellent with haul out and launch.
I feel you are a warm welcoming Marina who's staff is very approachable and welcoming. I keep coming back because of your dock security, fellow fisherman, boaters and your secured gates to park and very scenic Marina with beautiful wildlife.
Overall the staff at Bluffers Park Marina is always helpful with any request made. The staff has always been pleasant to myself and my friends. I appreciate their cleanliness of your washrooms, docks and the marina as a whole.
Pat and I love Bluffers Park Marina. The staff is friendly and courteous. It gives us piece of mind that your security system works. Looking forward to this fishing season. Thank you Michelle, Kelly, and Staff.
The company is great! Having experienced Marina's + Marina services all over the world due to my racing career, I can easily comment that Bluffers Park Marina is one of the finest run marines I've had the privilege of being at. All experiences have been great from the admin staff and technicians.
We wanted to let you know that we enjoyed our stay at Bluffers Park Marina last summer and to complement your staff, Michelle, Kelly, Lexy, Jenna and Jaime for being professional, courteous, knowledgeable and helpful to our wants and needs.
It made our stay memorable, pleasant and hassle free. We are looking forward to another fishing holiday at the Marina this summer.